Homepage Logo and Site Tab Logo (Photo)
How do I create a transparent Logo for the new 2.0 Platform?
What logos are needed for the 2.0 Platform?
Can I change the colors of the buttons and other texts?
Can I delete or move a logo?

---
NOTE
: Due to the individual "cache" settings, sometimes when you upload a new logo or home page
image
, it looks like it
doesn't show
. Read more
hear
.
There are two "built in" graphics images that each site can have. The first is the logo that goes in the upper menu bar on the left hand side and appears on every page. The other graphic appears just underneath that logo but ONLY on the home page. The normal way to use the logos is that the menu bar logo is your corporate or organization logo. The home page logo is specific to the event. Use the following specifications for these logos.
Top Bar Logo:
A blank .png version the home page logo is provided as a file attachment below (logo-tab-blue.png). Download
this image
and place your logo in the whitespace
using a photo editor
. Then save this image as a .jpg and upload to the site. Do NOT CHANGE THE DIMENSIONS of this logo. Just place your image
within the existing graphic
. You should keep the top 30 pixels of whitespace free. This is to allow for space for the black "login" button to overlap on small screens. The final image should remain 320px wide by 129px high.
No Top Bar Logo:
When the site first loads, it queues up with the "EventCORE" logo at the top. That is done to show you what is possible.
If you want
NO LOGO
(blank)
up there and instead a straight blue header all the way across, simply download the file below labeled "
logo-tab-blank.jpg
" to your local drive. Then without making any changes, upload that as your Top Bar Logo following the instructions above. (
There are two files below. The .png file is used to create your own tab logo. But if you want it blank, use the .jpg image below.
) The blank will look like this:

You can also create a very clean look by also hiding all of your left menu items (only using the pill items) and not using a Home Page Image (next section). There is a lot of flexibility here.
The Home Page Image
: This needs to be a .jpg image and if used, will occupy a space of 300 pixels high and 300 wide. If you desire your image to be centered (horizontally or vertically), just keep the image size as 300px by 300px with a transparent background and center a slightly smaller image within that space. If your image is less than 300 pixels wide, it will be left justified. If the height is less than 300px, it will be vertically aligned at the top. So if you had an image of 250 wide by 200 high, it will appear in the upper left corner with 50 pixels of white space to the right and 100 pixel of white space below.
For all images, the maximum needed resolution
should be 72dpi
. All images
MUST be .jpg FILES!
The logo images should be relatively small file sizes which will help with page loading times. They should be less than 250kb.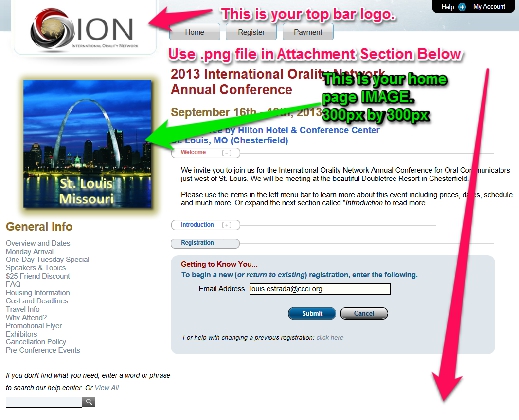 Changing the Colors of Other Buttons and Texts
EventCORE is a shared platform and although it may appear that we've built a custom site just for you, there are no static HTML pages. Every page you see on the screen is dynamically created on an as needed basis which means that we can't go in and move stuff around, change a background or add an image on the basic framework. The exception to this is the individual information pages where you can add images and some limited special font features. We may eventually add the ability to customize the style sheet, but that is a future scope project that has not yet been funded.
Deleting a Logo
Logos are deleted in the same way that you delete an image. You go to the upload image page and click the far right button for "View/Delete Images" and follow the on-screen instructions. If you need additional help, you can
view this answer
.
Moving a Logo
If you accidentally uploaded a tab or home logo to your custom file and you no longer have it on your local drive to upload, there is a way you can
manually
move it. You can do the following:
Go to the "Uploader Section" that lists all of the files in your custom directory.
Find the file that contains the logo or home page image you wish to move.
Copy the URL link for that file into your clipboard.
Go to the URL of your browser and type: "https://intre.org/"and then paste the contents of your clipboard to give a complete URL address. Hit return.
This should display the image that you have choosen to move/replace.
Use the "Save As" option to save the image to your local drive (Crtl-rightclick"on a PC).
Then follow the normal instructions above for uploading an image.
Logo Summary:
Top Bar
: Use the image below as templace and insert logo into white space and save as .jpg.
Home Page
: 300 wide up to 300 high. Will be placed on a white background. .jpg image.
Blank with No Logo:
Use the logo-tab-blank.jpg as your upload file for your top bar logo.
If you want to see what the logos look like in action, take a look at our
Platform 2.0 Test site
. If you want to see what a custom top bar logo looks like, go to
this site
.
---
Attachments
---